Assemblies
Design Consultation
Fabrication
Kanban Management
Production Runs
Prototype Development
Assemblies
The Perfect Fit
Help save time and hassle. We have years of experience of sub-assemblies and assemblies involving mechanical parts. From our machining centers to our assembly center to you. That way your parts are ready when you need them, without the need for another process. We can help save your time and keep your supply chain hassle-free.
Looking for a Supply Chain Partner to Fulfill Your Production Needs?
Organizations do well when they focus on their core competencies; thus it is rare for an OEM to produce 100% of its products in house. For mechanical assemblies, in addition to cost savings, there are several benefits to the outsourcing:
INVENTORY MANAGEMENT: When we ship a completed assembly, there's only one part number to deal with, improving efficiencies for your inventory personnel.
EQUIPMENT AND TECHNOLOGY: With advanced assembly technology changing rapidly, it's difficult to keep pace for most organizations. At Affinity, you get the benefit of latest equipment, technology and innovation necessary to successfully build a mechanical assembly which may otherwise be cost-prohibitive for specialty applications or smaller production runs.
PRODUCTION LEAD TIME: For innovative companies, the speed at which your products get to market matters. Affinity has the infrastructure and talent to respond quickly, and has the processes in place to speed production. A domestic or near-shore supplier over an offshore vendor can also significantly reduce wait times and help you gain a competitive advantage.
FOCUS ON CORE-COMPETENCE: Outsourcing your assembly provides opportunities for you to invest more in your people and focus on core competencies.
What can Affinity do for you?
ALL UNDER ONE ROOF TURNKEY SOLUTION: We can undertake procurement of raw materials, machining of parts, heat treatments, finishing operations, and surface treatments all-in-one service.
ONGOING DESIGN TO MANUFACTURING SUPPORT: If there is any design issues we can fix it or that if one thing is machined slightly off we can modify the mating part to fit accordingly. You get the benefits of keeping all mating parts under one roof.
SHORTER LEAD TIME AND LOWER COSTS: With our turnkey solutions and design support, we are relentlessly focused on your project success, resulting in significantly shorter production lead time and overall cost optimization.
EXPERIENCE YOU CAN TRUST: We take pride in the experience of sourcing of hard-to-find materials and maintaining inventory of hardware and other standard components. We have years of experience in production of sub-assemblies and assemblies involving mechanical, optical, hydraulic, pneumatic and other parts to provide a turnkey solution to our customers.
If you're ready to reap the benefits of outsourcing your assembly needs, reach out to us here at Affinity. We would love to talk more!
Design Consultation
Unlocking Potential
Design for Manufacturability (DFM) is a key factor that determines a product's success and it directly impacts product quality and availability. The DFM consultation ensures optimal production efficiency and quality while pre-empting any potential product problems during the design phase itself.
At Affinity, we actively collaborate with design engineers in helping them realize their product vision. Together we overcome the barriers that prevent hardware innovation. We are a team of specialized machinists who have been practicing for years and possess in-depth knowledge about machining processes. With decades of accumulated knowledge and expertise that we have built as a machine shop, we can assist in translating our trade knowledge into solving your key challenges.
Saving Time, Costs and Effort
DFM allows you to save time, cost and effort related to the product redesigning process and builds manufacturing output efficiently. DFM practices vary, depending upon the industry and type of manufacturing process. With defined check lists for quality and design checks, we take care of factors which might impact product manufacturing including the nature of raw material, its physical and chemical attributes and its availability for faster production.
It has been estimated that by the time product design gets determined, about 80% of the total product costs are incurred. These designs determine the manufacturability which in turn impacts production costs. DFM plays a vital role in controlling product costs.
Ready to Manufacture but You Are Not Sure?
Our team has in depth experience CAD/CAM experience. We can consult your engineering team on design and help consult on feasibility. We have worked with engineers and designers to help build quality into the part while keeping costs low. Expect these and more when you partner with Affinity:
DESIGN CONSULTATION: In most cases design consultation is free for customers(especially if we are getting the order).
COLLABORATION: It is very common for us to get the customer involved in the designing process and help troubleshoot or iron out all the kinks. When the situation demands, we visit the customers' site and help in finding solutions and our doors are always open to customers to help them with solutions in true spirit of teamwork.
HONESTY: Give the feedback to customer so there is no implicit knowledge kept with us.
EXPERTISE: We are the manufacturing experts and we can guide you on cutting costs, improving feasibility by recommending materials and correcting features.
SUPPLEMENT: We are always happy to assist your engineering department in any way we can.
EDUCATE: Our key focus is to educate the customer about the process, so that they can take well informed decisions.
Contact us. We are Here to Help.
Fabrication
Comprehensive Metal Fabrication
Precision metal fabrication for manufacturing custom parts out of metal sheets consists of a variety of methods. Affinity offers a comprehensive and cost-effective metal fabrication experience by utilizing our breadth of in-house manufacturing specialties and value-added finishing services.
At Affinity, we have the equipment, experience and skills in fabrication involving Aluminum, Steel and Stainless-Steel weldments using MIG or TIG welding, Painted or powder coated Custom welded racks, carts, machine frames, etc. made of steel. We provide you premium quality parts or components to finished products every time.
Fabrication & Machining Solutions - All-In-One
We offer both fabrication and machining under one roof. Skilled certified welders and machinists are here to work together to help deliver quality fabrication with the accuracy of machining. That way your job is well done.
Large or Small Items

Affinity has the capacity to fabricate a wide range & size of items, whether large or small. Our experience encompasses large scale fabrications.

Extensive Finishing Services

In addition to our custom metal fabrication, we also offer a full range of finishing options to elevate the finishing and appearance of your finished product

In-House Value

From prototype to production, experience our end-to-end capabilities for reduced risks and more savings for you.
Kanban Management
Drive Lean Transformations with Kanban
Kanban uses a Lean technique – a pull system that is based on replacing what has been consumed, based on client demand. The ordering and parts for manufacturing are 'just in time' for an exact delivery date. By maintaining key inputs of what is needed only for final deliverables on order, the inventory becomes leaner.
Kanban systems are particularly useful where large numbers of components need to be processed and tracked. The overarching goal is to achieve higher throughput with shorter delivery lead times.
Do you have consistent demands and have trouble maintaining inventory?
Affinity can help. We have years of experience tailoring to customers needs of Kanban, blanket PO's, monthly releases and Pull systems. You get the parts you want when you want with no worries of down time on your production line.
Kanban systems managed by Affinity can yield unparalleled inventory efficiencies. Companies using Kanban Management systems have seen inventory turns increase significantly, lead-times shortened ; inventory costs cut meaningfully by reducing unnecessary administration & storage costs; and have eliminated a large number of their former replenishment process steps.
Better replenishment and demand planning
We generate a Lean material flow for our clients & operates with a system that works for our clients. We maintain ownership of raw materials & subcontracted components until consumed, allowing our clients to reduce inventory levels and costs . Since it is managed end-to-end, we are also in a position to negotiate better terms on behalf of our clients. With "shared responsibility", we minimize actual inventory levels, build safety stock and optimal reorder point levels with minimal risk.
Lower your part cost, save space, increase cash flow, lower administrative cost Get in touch with us today to power up your lean supply chain!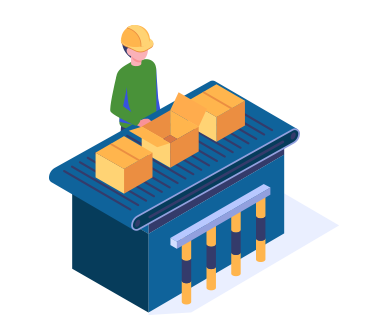 Production Runs
Lower costs with higher quantities of machined parts
Outsourcing your production machining has numerous well acknowledged advantages. When you outsource your machining needs to Affinity, you can expect professional workmanship delivered by experienced machinists, state-of-the-art facility with finest equipment to give you the confidence that the manufacturing process for your project runs smoothly from start to finish. Rely on our experience with a vast selection of materials and processes, so that you don't have to go from shop to shop to find someone who can complete your projects successfully.
Having served a large base of clients in diverse industries, including several large enterprises and innovative startups in Optics & Photonics, Medical Instruments, Robotics & Automation, Aerospace, Electronics, Clean-tech, Oil & Gas, Research & Development, Agriculture & Marine – Affinity can be your specialists in the design and manufacturing of high precision, high-quality, complex parts and products. Your team at Affinity loves new challenges, confident of meeting diverse custom machining needs for an extensive range of projects.
5 Reasons to Turn to Affinity for Machined Production Parts
We can meet all your manufacturing needs from prototyping, small batch production to large production runs. With over 20 years of experience, Affinity can be your reliable partner with our engineering tools, resources and manufacturing capabilities. We can quickly transform design into a three-dimensional solid model or prototype, which may significantly simplify your design and product development process or effectively solve time-sensitive component problems.
Lower Costs

The setup cost is amortized over larger volumes and delivers bigger cost savings

Quality

With larger quantities, we are able to invest more in terms of custom gauges, jigs and fixtures

Consistency

When things are running longer, it's easier to adjust the machines and tools and have dedicated capacity

Lead Times

With dedicated capacity get the benefit of lead times driven by your demand cycle

Multiple Ship Dates

We are able to offer a volume based price break on Single PO with staggered shipping schedules giving you the Supply Chain Flexibility
CNC Machining Designed
Truly Around your Project Needs
Competitive Pricing
Better quality
Assembly
Inspection reports
Material certification
Anodizing
Plating
Powder coating
Quality Reporting
When all of your parts are machined at Affinity you can be assured those parts are going to be produced in our ISO 9001 certified facilities and never outsourced to another machine shop. All parts are inspected for cosmetic conformance to workmanship standards and dimensional conformance on at least three dimensions (typically X, Y, and Z). With production parts for machining, we also provide conventional inspection reporting like FAIs, and Certificate of Compliance (COC) documentation.
Prototype Development
The Importance of Prototyping
Over the years, the term Prototyping has morphed into a very broad expression. We define a prototype simply as an early model built to check a concept. Throughout the design and product planning process, it is critical to provide a model representation that enables continuous learning for an overall better end-product.
Long before production commitment, prototypes provide the chance to interact with a product to confirm well-executed design detail and ensure optimal manufacturing strategy. Examining preliminary design details in an exceedingly more real-life form allows weaknesses to be identified, increases project efficiency, and helps deliver better end results.
Prototype Machining
In prototyping, we usually work closely together with your designers and engineers to provide a small number of machined parts – sometimes even only one. At this critical stage of product realization, it's essential to accommodate every detail correctly. Therefore, irrespective of the scale or complexity of your parts, we spare no effort to manufacture as per the specifications and submit for your inspection and approval.
Based on our customized parts manufacturing experience for over 20 years, we are proud to be able to provide a full set of prototyping services, to fulfill your delivery deadline with no sacrifices with product quality.
Affinity – Your 360 degree Prototype Partner
We can meet all your prototyping & small batch production needs. With over 20 years experience, Affinity can be your reliable partner with our engineering tools, resources and manufacturing capabilities. We can quickly transform design into a three-dimensional solid model or prototype, which may significantly simplify your design and product development process or effectively solve time-sensitive component problems.
Accelerate your Development

Affinity has the expertise and technology necessary to take your ideas from design being ready for the marketplace and in your customer's hands more quickly. There are always lessons that are learned within the process of prototype development. What makes Affinity unique is our Rapid Feedback Loop and Transparency, which allows us to boost your product design and reduce development costs long-term.​

Increasing Efficiency with Integrated Development​

One of the foremost common mistakes made during the prototype development stage is multiple silos managing different elements of the project. Affinity takes a holistic approach to development that significantly reduces the price and time of bringing your product to promote. Whether it's a medical device or a consumer product, our integrated development solution will make sure that prototyping is completed right the first time.​

100% Confidential and Secure​

All new product ideas start with trust. At Affinity, we work flat out to earn our clients' trust by demonstrating prior client run through case studies that future customers can review. Affinity follows high ethical standards with NDA to help protect you and your design. Your design is safe with us.​

Service & Speed

When you need precise, innovative and fast turnaround on machined prototype parts to judge and compare before full production, you can rely on the higher standards and expertise of Affinity prototype machining services. To ensure that the optimum quality, we maintain the best standard of CNC prototyping and strive to be the fastest responding manufacturer.​
Low-Volume Manufacturing
The power to manufacture parts in low quantities is extremely useful for teams that are developing their designs. Affinity can support low-volume manufacturing and supply engineering assistance to guide you through the prototyping process to make sure that your application has the most effective performance. This is the core tenet of our design, development and delivery strategy!
Committed to the quality you demand and the capacity that you need. Expect responsive services and more when you partner with Affinity on your next project.
Top